Regular price
$657.00 USD
Regular price
$718.00 USD
Sale price
$657.00 USD
Unit price
per
Sale
Sold out
30-Day Money Back Guarantee

All consultations are performed by specialized Nutritionists or Registered Dieticians

Individual 1:1 coaching by phone or video call
View full details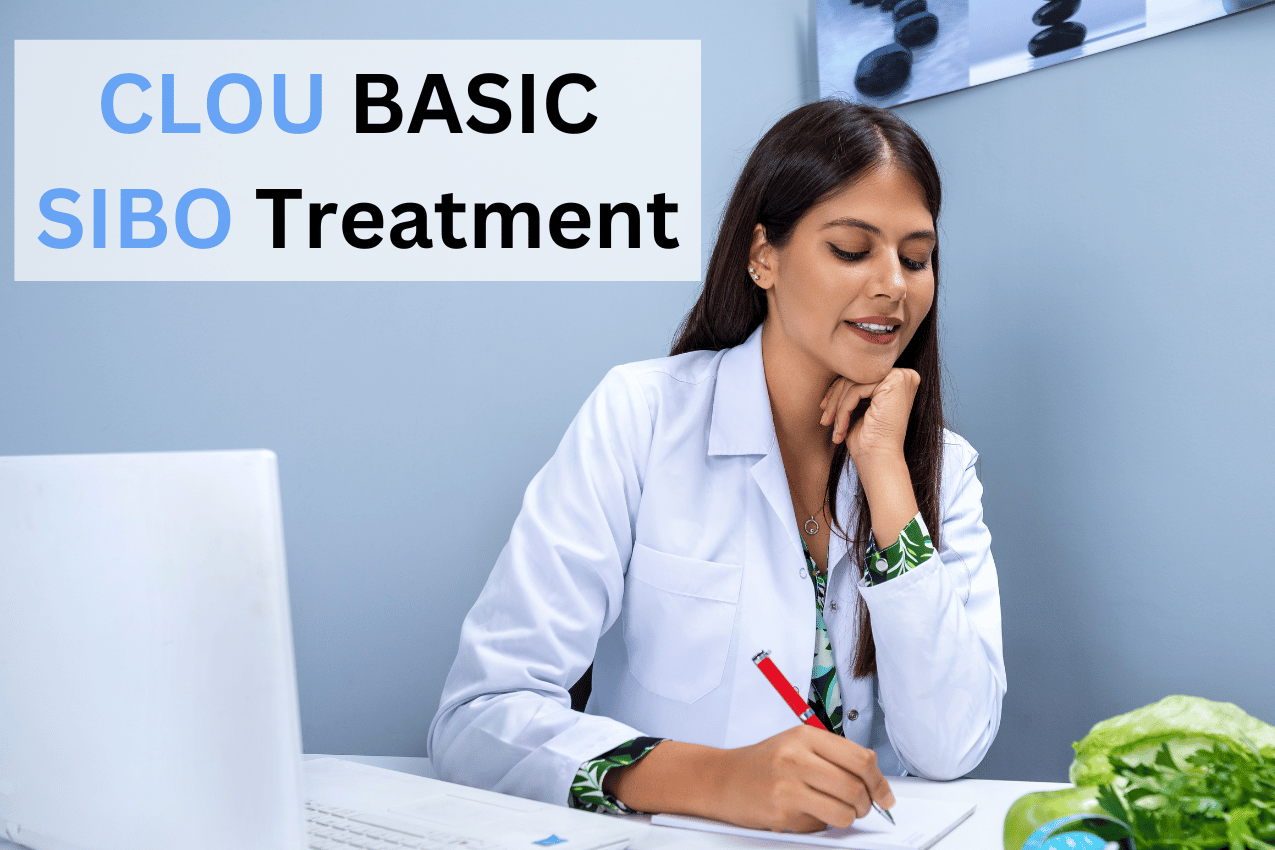 DETAILED DESCRIPTION
The revolutionary program designed to help you take control of your digestive health and manage the discomfort and embarrassment of Irritable Bowel Syndrome IBS and SIBO symptoms.
Led by a team of specialized dieticians, CLOU provides a comprehensive approach to managing these conditions.
So what can you expect from CLOU IBS & SIBO Treatment Program?
The CLOU-Program focuses on helping individuals with IBS take Control of their symptoms, Live their best life, Overcome challenges, and Unleash their full potential of a happier and healthier life.
How you will be supported to get rid of IBS / SIBO:
1 x 60 minute Initial Consultation (Video or Phone)
1 x made for you Action-Plan
2 x 45 minute Consultations (Video or Phone) with your Expert to ensure you're on track and getting the support you need
2 x Updated Action-Plan after every Consultation
1 x 30 minute Final Consultation (Video or Phone)
FREE BONUS: Symptom Diary - eBook (Value US$ 27.00)
Emergency contact with our SIBO Expert via WhatsApp and Email (allow response time) between the regular sessions
With CLOU Basic, you'll have everything you need to manage your symptoms and achieve optimal health in just a few weeks.

Don't let IBS and SIBO symptoms control your life any longer - take the first step towards a healthier, happier you by enrolling in our program today.
INITIAL CONSULTATION
Your First Step to Digestive Wellness
Experience the synergy of compassionate care and expertise in our Initial Consultation designed specifically for individuals struggling with Irritable Bowel Syndrome (IBS) and Small Intestinal Bacterial Overgrowth (SIBO). 
Our Expert will provide you with personalized, one-on-one attention, as they delve into your medical history, dietary habits, lifestyle, and any past or current symptoms you may be experiencing.
In this comprehensive, 60-minute session, we don't just scratch the surface. We aim to uncover the root causes of your digestive discomfort. 
Through our comprehensive approach, we seek to understand the unique factors contributing to your condition so we can design an effective, tailor-made actionplan for you.
We believe everyone's journey to a happier and healthier life without IBS & SIBO symptoms is different. And our aim is to guide and support you at every step of yours. 
Armed with the knowledge and expertise in the latest research and advancements in gastrointestinal health, our Gut Coach is well-equipped to help alleviate your symptoms and enhance your quality of life.
With our Initial Consultation, your path to relief starts here. 
Embark on a transformative journey to reclaim your health, optimize your gut flora, and rediscover the joys of living free from the shackles of IBS and SIBO. 
Let's restore your gut health together.
ACTION PLAN
Your Personalized Blueprint to Overcome IBS and SIBO
Welcome to the first stepping-stone of your wellness journey – the Action Plan. This tailor-made strategy is designed as the foundational framework for your coaching program, providing you a clear path towards relief from IBS and SIBO.
Our IBS & SIBO Expert will craft your Action Plan based on the insights gathered from your initial consultation.
This comprehensive guide will detail the dietary changes, lifestyle modifications, and therapeutic interventions that will form the core of your personalized wellness journey.
The Action Plan is more than a checklist; it's a living, adaptable document that evolves with your needs.
As we monitor your progress and your body's unique responses, your Action Plan will be adjusted to ensure optimal efficacy, comfort, and improvement.
This invaluable tool is - together with your IBS and SIBO Coach - your constant companion throughout the coaching program.
It serves as a roadmap, keeping you focused, motivated, and informed. From dietary recommendations to stress management techniques, each element of your Action Plan is chosen to alleviate your symptoms, restore your gut health, and improve your overall wellbeing.
With our Action Plan, you have a tangible representation of your journey ahead - a testament to your resilience and the first step towards a life free from the burdens of IBS and SIBO.
CHECK IN CALLS
Stay Supported on Your Path to Digestive Health
Our dedicated 45-minute Check-In Call is an integral part of your journey towards achieving relief from IBS and SIBO. 
This targeted session is designed to provide continuous support, monitor your progress, and make necessary adjustments to your personalized action plan.
In these regular touchpoints, our expert IBS / SIBO Coach will listen to your experiences, challenges, and triumphs. 
Understanding that gut health is a complex process, these calls are an opportunity to reassess and fine-tune your health strategy based on your body's unique responses and evolving needs.
Whether it's answering questions about your dietary changes, troubleshooting symptom flare-ups, or simply providing a listening ear and motivational support, our Check-In Calls are designed to keep you encouraged and empowered.
This is not a one-size-fits-all journey. 
We understand that your path to relief from IBS and SIBO is personal, which is why we ensure that these sessions are a safe space for open communication. 
The 45-Minute Check-In Call is your time to express concerns, celebrate improvements, and keep the momentum towards achieving your health goals.
Remember, you're not alone on this journey to digestive wellness. 
With our 45-Minute Check-In Calls, we're with you every step of the way, ready to navigate the complexities of gut health together.
FINAL CONSULTATION
Celebrating Progress, Ensuring Continued Wellness
As you approach the end of your customized coaching program for IBS and SIBO relief, it's time to reflect on your journey, celebrate your progress, and plan for a future of sustained digestive wellness. 
Our 30-Minute Final Consultation is designed for just that - a focused session to wrap up your program and equip you with the tools for long-term gut health.
In this pivotal meeting, your IBS and SIBO Coach will review the achievements and insights gained throughout your wellness journey. 
We'll analyze your symptom improvements, dietary changes, and lifestyle adaptations, celebrating the milestones and the strides made towards reclaiming your health.
But we won't stop at reflection. This consultation is your roadmap for the future. 
We'll provide guidance on maintaining the beneficial habits you've cultivated, help identify potential triggers that may re-emerge, and equip you with strategies to manage any future digestive discomfort. 
Our ultimate goal is to ensure that you feel confident and prepared to continue your journey towards sustained health, even after our program concludes.
As we wrap up your customized program, this 30-Minute Final Consultation signifies not an end, but a new beginning to a life of improved digestive wellness. 
It's a testament to your resilience, commitment, and the power of personalized, compassionate care in overcoming IBS and SIBO.
YOUR ADVANTAGES

You will be guided individually by one of our Experts.
Enroll today and you will benefit:
Treatment from the comfort of your own home
Consultations just for you in one on one sessions
No waiting rooms at practices, filled with people and bacteria
No wasted time at the doctors office
Not sure if this is for you?
Talk to one of our Gut-Experts: Schedule your FREE SIBO- / Gut-Expert Call now